Solar Panel Bird Proofing/Netting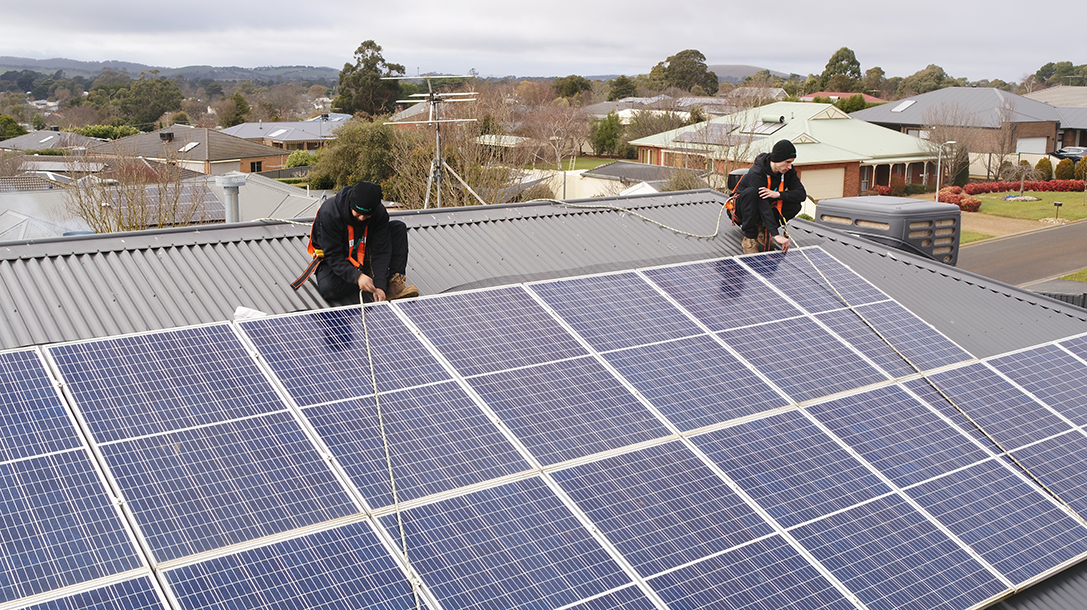 When birds or rodents nest under your solar panels, you're putting vital and expensive components at risk of damage. The thick build-up of bird droppings is not only an eyesore, but the acidity from the faeces also corrodes solar elements below and nests make it comfortable for other pests to bring disease.
We recommend installing our solar panel bird-proofing netting mesh around the void areas of your solar panels to keep birds and rodents from being able to access underneath.
It is normal for the birds to come back and hang around for a few days trying to get back under the panels, then give up and move on. In situations where birds find somewhere else on the roof to nest, we can provide additional bird deterrent services.
Contact us today for a free written quote for a professional solar panel bird netting installation service in Melbourne.
High-Quality Bird Netting
Our technicians use a UV-protected, coated galvanised mesh that is installed around your solar panels leaving no gaps for birds or pests to enter, without using screws or drilling holes. It is tightly secured using a polycarbonate or stainless-steel clip which cannot be removed by birds or pests.
Prior to installing the solar panel bird netting mesh, we ensure that no live birds are present. We also use a blower to lightly remove as much animal and leaf debris as possible without disturbing any wiring or damaging the panels.
Frequently asked questions
Should I bird-proof my solar panels?
Protecting your solar panels from pesky birds is so important. Birds like to perch and make their homes around these structures to protect themselves from predators. The mess they make underneath and around your solar panels is highly acidic and will corrode the components and dramatically reduce the efficiency of your solar panels, not mention its unsightly build up is smelly, brings diseases and can attract other unwanted bugs and rodents. A properly installed system will keep out birds, rodents and debris.
What is the most effective way to bird-proof solar panels?
The best and most humane way to deter birds and rodents is by installing a high-quality mesh around the open areas of your solar panels. A technician will thoroughly remove all the debris from underneath and around the solar panel. Then they will fit a hardwearing, UV-coated mesh to the exposed areas, which will not interfere with the function or warranty of your solar panels. The mesh can be removed and installed for any future solar panel maintenance.
What is your OH&S policy? Are you compliant with Work Safe?
All of our technicians are fully insured and abide by the relevant Australian Standards. Our staff are trained professionals and have all their white cards and working at heights tickets. They use a roof harnessing system to ensure all workers'/employees' safety while working on roofs.
You might also be interested in
Bins Made Clean
Cars Made Clean
Windows Made Clean
Gutters Made Clean
Carpet Made Clean
Home Made Clean
Office Made Clean
Bins Made Clean
Cars Made Clean
Windows Made Clean
Gutters Made Clean
Carpet Made Clean
Home Made Clean
Office Made Clean