Window Cleaning
Do you have windows you can barely see out of?
Forget about streaks and smears, our window cleaning service guarantees you'll be satisfied with your windows. Our trained professionals save you both time and energy by providing an efficient service that will extend the lifespan of your windows.
Improve the look of your home or business with a professional window cleaning that will give your windows a new sparkling clean look. Whether you need a couple of windows cleaned on your property once a month or would like a clear view out of your 20th-storey office, or need a clear view from your storefront windows, CleanMade will get the job done safely, professionally and up to your standards. We are fully insured, guaranteeing our safety and your peace of mind.
Let our trusted team clean your windows for inside and out to let that daylight back into your property. We can clean any glass at your home, office buildings, factories and Government buildings. Our team has the qualifications and equipment to get the job done and leave your window surfaces sparkling.
Contact us today for a free quote for window cleaning in Melbourne.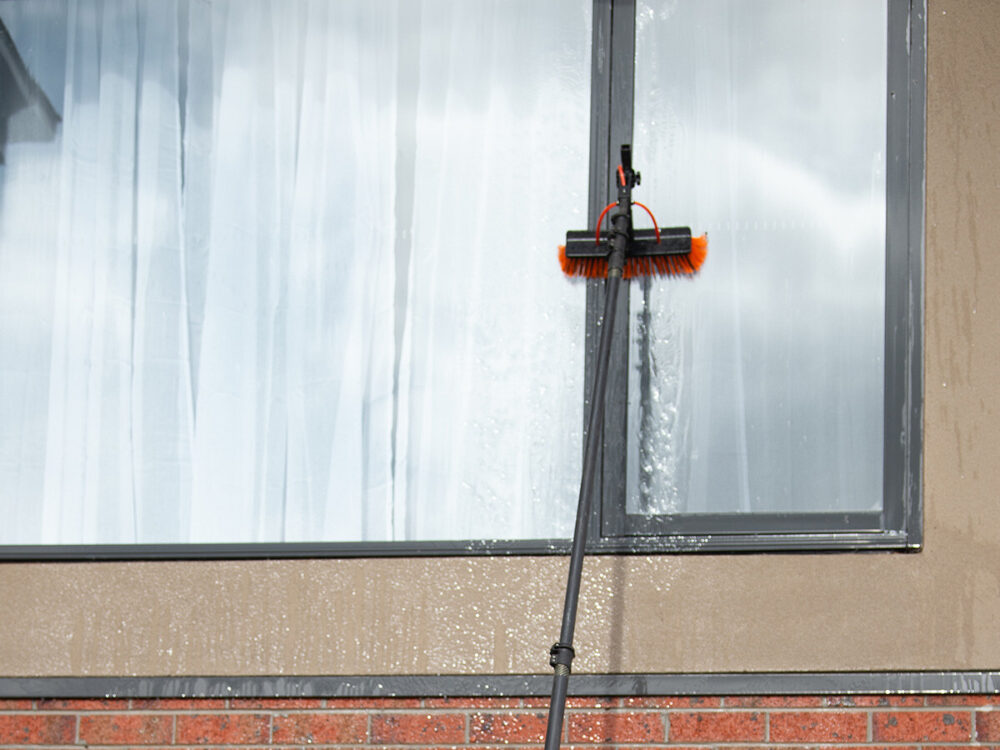 Sparkling Glass & Window Clean
Giving your windows a thorough clean is our job, and we take it very seriously. We deliver a professional window cleaning service tailored to your needs. Our technicians will begin by inspecting your windows, followed by a thorough clean of the glass and window frames. Once this is completed, they will clean the ledges and windowsills, ensuring your windows are thoroughly sanitised. We use high-quality products and materials, with up-to-date techniques, to provide the best possible service. We prevent water damage by using protective mats when providing your professional window cleaning service.
Frequently asked questions
How often should I get my house windows cleaned?
Generally, windows are due to be cleaned every 3-6 months. This really depends on your location, climate and whether you have pets or children.
What types of window cleaning is available?
We can do almost any windows including your home, office buildings and government buildings. Our technicians are licensed to operate cherry pickers for high access.
What is included in a window cleaning service?
You can choose to clean just internal, external or both, and a simple wash and wipe of sills is included. There is an extra fee to remove flyscreens and you will need to let us know if they are screwed in place, as this will take a lot longer to remove and refit, we may need to adjust your quote to allow for this. Licensed window and door screen installers (such as Crimsafe) will only be able to remove and refit themselves to retain warranties. Heavy mould on frames is not included and will require quoting upon inspection. Also, you can ask for a separate quote to have your tracks and runners properly cleaned.
Can you reach my second storey windows?
For external access to second story windows, we can easily use a ladder or our long water fed poles to get the job done. We can access internal second story windows usually from inside the property.
Can you clean any glass?
Yes, we can clean glass pool barriers, skylights, balustrades, solar panels and mirror walls.
How much notice do you need to clean my windows?
Residential properties and most workplaces are possible to book in within one business day. Larger commercial or industrial properties may need a longer lead time if we need to prepare abseiling or cherry picker equipment.
Do I need to be home to have my windows cleaned?
If you are only having your external windows cleaned then you do not need to be home if we have access around the perimeter of the home. We will need you to be home if you are having your internal windows cleaned to provide access.
You might also be interested in
Bins Made Clean
Cars Made Clean
Windows Made Clean
Gutters Made Clean
Carpet Made Clean
Home Made Clean
Office Made Clean
Bins Made Clean
Cars Made Clean
Windows Made Clean
Gutters Made Clean
Carpet Made Clean
Home Made Clean
Office Made Clean