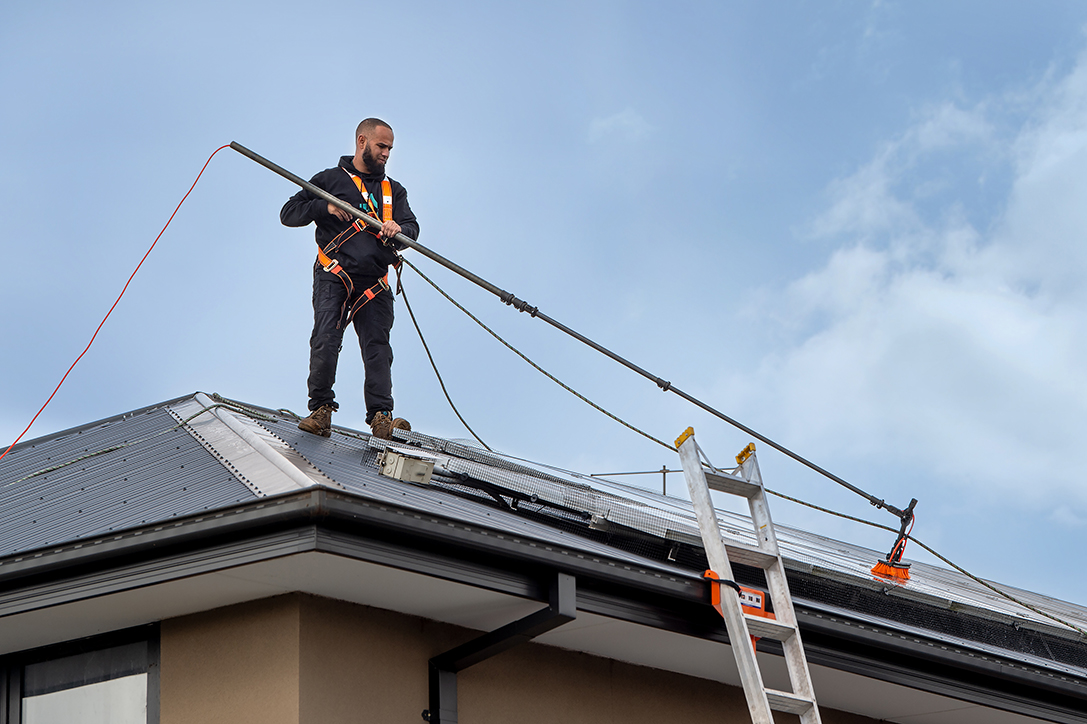 Whether it's your office, retail store or commercial building, a clean, well-maintained space helps comply with health and safety, as well as giving peace of mind when you hire a professional service from CleanMade's licensed & insured technicians. Regular scheduled commercial cleaning services are a great way to ensure that your work environment is in a healthy and clean condition. Staff and visitors will appreciate the environment and feel respected by the fact that you care about their health and experience of interacting in a well-maintained space.
1. Gutter Cleaning Services
A clogged gutter can be a nightmare for commercial property owners and lessees. Overflowing water adds extra weight to the roof gutters, and is property damage waiting to happen. Take preventive measures by hiring CleanMade's gutter cleaning services to avoid the potential for damage to structural integrity and water ingress.
Getting up to the roof and carrying out professional cleaning services is a challenging task for many commercial properties. Our expert technicians have years of training and experience, and are licensed and insured.
2. Solar Panel Cleaning Services
Some businesses have implemented solar panel energy as a measure to save costs and/or reduce carbon emissions. However, your investment can be more efficient and long-lasting with regular cleaning. What better way to do this than with CleanMade's professional solar panel cleaning services?
The cleaner your solar panels are, the more efficient they will be and the more power they will generate. The good thing about solar panels is that they do not require much cleaning or maintenance. However, in dry areas or where the panel tilt is lowest, you are likely to find substance build-up. These may include dirt, dust, grime, dry leaves, etc. With professional cleaning, you can be confident that your panels are in excellent working condition.
3. Window Cleaning Services
Forget about streaks and smears. We offer a window cleaning service in Melbourne that is performed by our trained professionals. Save time and energy by hiring our professional window cleaners who provide themselves on leaving offices, retail stores and other commercial businesses with sparkling clean glass.
4. Roof Cleaning Services
Roof cleaning restores your building's appearance, and it will help with the overall condition of your commercial property. We help identify cracks or damage, and also offer basic roof repairs to help prevent leaks before the water ingress causes potential health and safety issues. CleanMade's licensed and insured technicians ensure your roof is clean and in a good condition.
5. Pest Control Services
Our Pest Control team is friendly, courteous, punctual, and reliable. We aim to offer the highest level of professionalism at a competitive price. Our licensed and insured technicians are experienced in treating and eliminating all types of common building pests, such as rats/mice, cockroaches, spiders, and ants.
6. Building & Pest Inspection Services
Building & Pest Inspections include a comprehensive report detailing pest sources, treatments and management, as well as details about all damage found. CleanMade's licensed & insured Building & Pest Inspection technicians provide a full detailed visual termite inspection that meets Australian standards using the latest tools and equipment.
7. Bird Netting & Spikes
Birds can make a huge mess around your building. We help prevent birds from perching on your antennas with our bird spike options. Spikes can also be attached to building ledges, balconies and fences. If you have solar panels, we offer bird netting that is a secure mesh to prevent birds from building nests.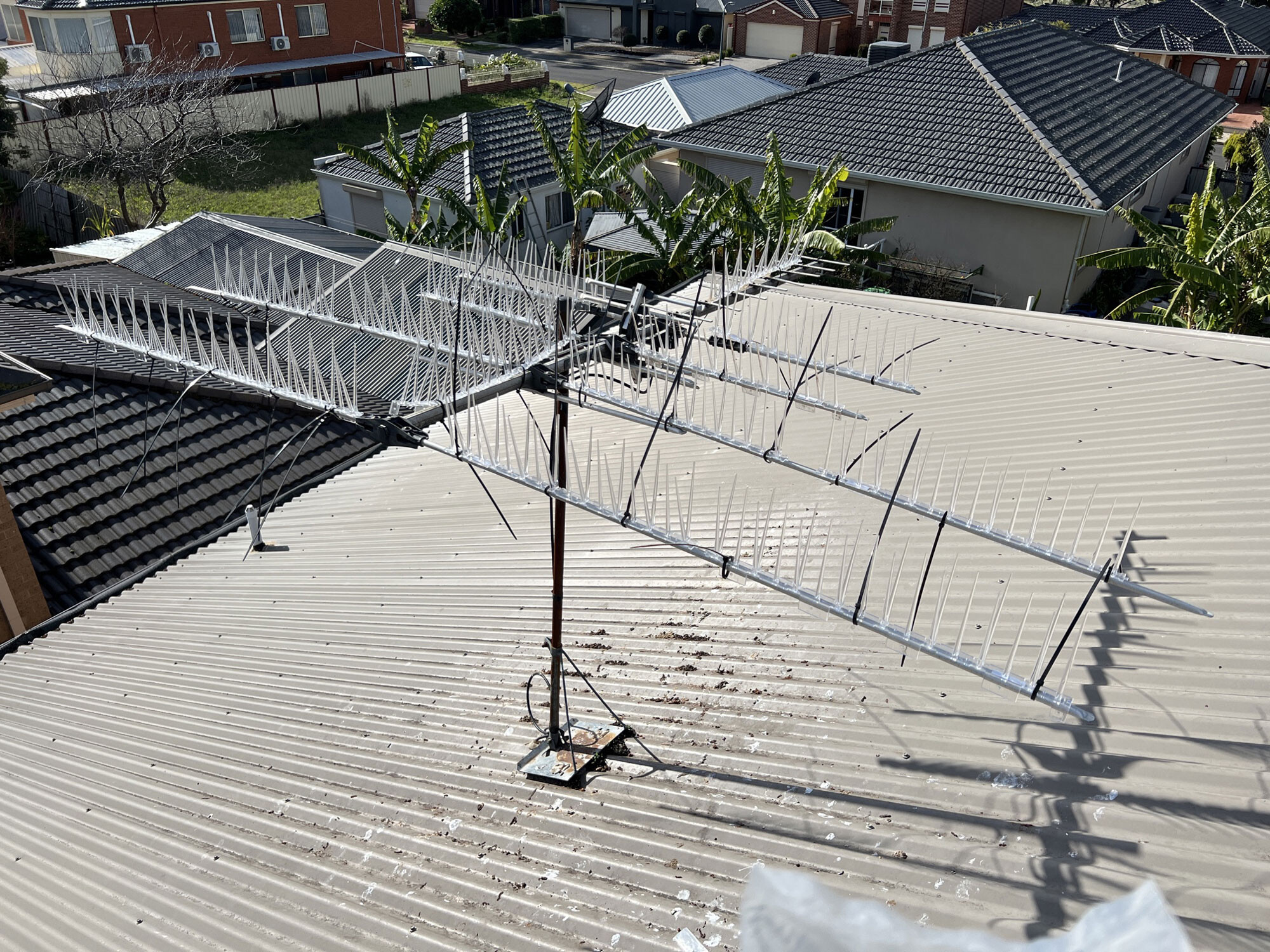 8. Pressure Washing Services
Maintain the exterior appearance of your buildings and driveways with professional pressure washing services. Pressure-washing restores surfaces and removes harmful pollutants, mould, mildew and dirt. You can pressure-clean most external surfaces, including driveways, building facades, concrete, pavers and decking to ensure your visitors have confidence that you are a business that cares about its reputation.
9. Office Cleaning Services
Is your office looking unkempt and unprofessional? Not only does a clean workspace make your business look more professional and trustworthy, but it also makes your employees feel respected and have a higher level of optimism. Getting professional cleaning helps your business comply with WH&S requirements. Our professional office cleaners use the latest equipment and cleaning tools. Each workspace has its own unique cleaning challenges and requirements. CleanMade assures that you are paying for a service specifically tailored towards your needs.
10. Fleet Vehicle Upholstery Cleaning Services
Fleet vehicles are an expensive investment and no doubt you want to maintain them in excellent condition. Apart from general wear and tear, food pieces, spilled beverages, and other stains can become a health hazard by creating mould and attracting pests, but this doesn't mean you have to tolerate the abuse of your fleet. We provide vehicle upholstery cleaning services in Melbourne. Our professional cleaners have the knowledge, technical know-how, and equipment required to help restore your vehicle upholstery to new.