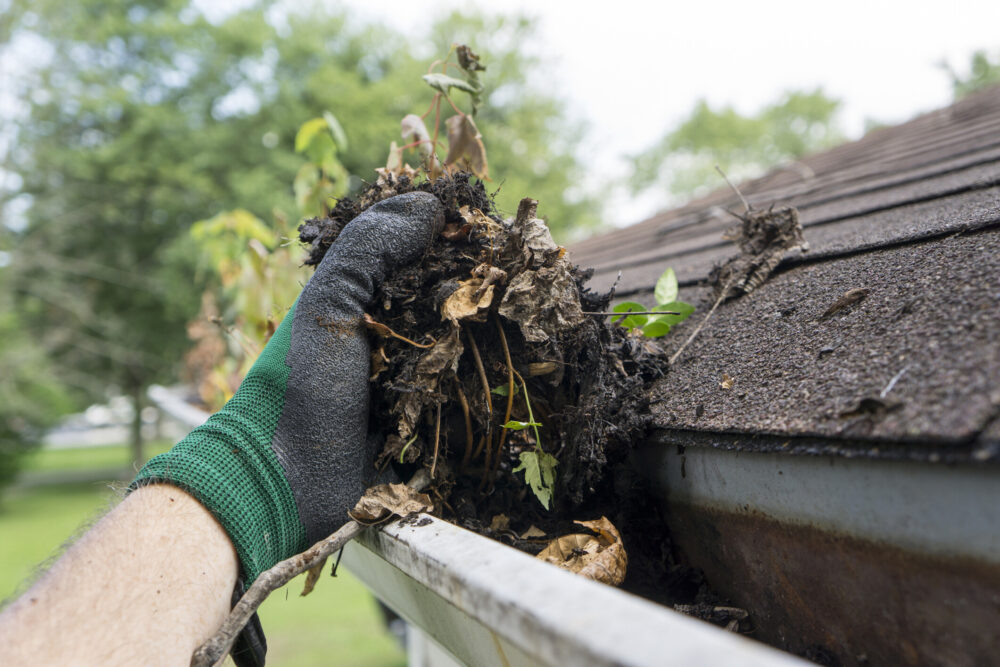 A roof cleaning service maintains the health and appearance of your property by removing organic growths such as mould, moss, algae, mildew and lichen. A gutter cleaning service removes dirt, leaves, and other buildup from gutters. Regular cleaning can reduce the risk of damage to your property.
Here are our top eight tips to help you choose the right roof cleaning or gutter cleaning services company:
1. Look For A Licensed And Insured Company
One of the essential things to consider when choosing a roof and gutter cleaning service is to ensure that they are licensed and insured. This not only gives you peace of mind should any damage occur, but also prevents claims for personal liability for any accidents on your property. CleanMade's technicians are licensed, insured and trained professionals.
2. Check For Experience And Expertise
A company with experience has worked on various roofing and gutter types and will have a better understanding of how to clean them. An experienced company will also know how to handle any unexpected issues during the cleaning process.
3. Read Customer Reviews
Reading customer reviews can help gauge the average quality of a roof or gutter cleaning service. Keep in mind, that the more reviews, usually the more accurate the rating. For example, 10-20 reviews on one site may not convey an accurate rating compared to 200 on another site. First, check if there is substantial written content or only a rating, then try to vet fake, unfair, overly critical, discriminatory, unreasonable or vindictive reviews – for example, someone that dines at a local cafe with expectations of receiving a Michelin-star meal would not be providing a review from a fair perspective. CleanMade's 500+ happy customers are a testament to how we value them choosing us for their services.
4. Get A Written Quote
Before hiring a roof or gutter cleaning service, we recommend that you request a free written quote. A written quote will help you understand the cost and scope of works, and should contain or provide the link to online Terms and Conditions. Ensure the quote includes everything, including additional fees (discussed and confirmed with your initial enquiry). We recommend avoiding proceeding further with companies that are unable to provide a written quote. At CleanMade, we provide you with a written quote and talk you through our services so you are fully informed about what they include and exclude.
5. Consider The Equipment & Methods Used
Ask different companies you are considering about their roof and gutter cleaning methods before making a selection. Reputable companies use high-quality ladders, harnesses, and safety equipment. There are several methods to clean roofs, including pressure washing and chemical treatments that can help protect against future damage. The same applies to gutter cleaning services. Some companies use a vacuum, while some clean the gutters manually. At Cleanmade, we clean your gutters manually by hand and finish off with a thorough rinse of your gutters and downpipes, as we found vacuuming is less effective at removing 100% of debris from gutters. We finish with a thorough rinse of your gutters and downpipes. For optimum results, we recommend cleaning your gutters annually (at a minimum) to prevent any buildup which can cause staining and rust that can impede the cleaning process.
6. Check Policies on Quality of Works
A reliable roof cleaning or gutter cleaning company will take great pride in its work and customer satisfaction. A company with policies that include remedies for unsatisfactory works helps provides peace of mind that the company will take steps to resolve matters should there be any reasonable dissatisfaction with its services. Ensure that the company offers details in their policies regarding the quality of their work. At CleanMade, we aim for 100% customer satisfaction on every job. Our Fair Go policy outlines information for customers who may feel unsatisfied with works.
7. Check Terms and Conditions
Ensure you do your due diligence and check the prospective companies' Terms and Conditions to look for glaring omissions or concerning wording prior to booking. Make a note of which companies may be eliminated at this stage. CleanMade's T&Cs can be found on our website.
8. Compare Companies
Now that you have procured written quotes and obtained information about the companies, it is time to get serious about which one you are going to choose. If you haven't already done so, call back companies on your shortlist and confirm their availability, provide any new or omitted information about your property and ask any final questions. At this stage, the smaller details may sway your decision, such as how responsive they are or how they treat you over the phone. You want to feel valued and thoroughly informed about a company and their services before making your final decision. At CleanMade, we aim to provide 100% customer satisfaction and our friendly sales team is able to assist if you have any questions or issues.
Roof and Gutter Cleaning Cost in Melbourne
The cost of roof cleaning or gutter cleaning varies depending on the number of storeys, size and type of roof/gutters, whether you have anything that needs to be removed and re-installed during the services (eg. gutter guards) and the complexity of the cleaning. On average, you can expect to pay between $500 and $2000 for a roof cleaning treatment (depending on a selected portion or full roof), and between $300 – 500 for gutter cleaning in Melbourne. CleanMade offers great value services and provides a free written quote, so the whole booking process is clear and streamlined.
Get In Touch With Our Friendly Team
Contact us today to learn more. We provide free written quotes, a 'Fair Go' policy, and guarantee our work. See our Terms.