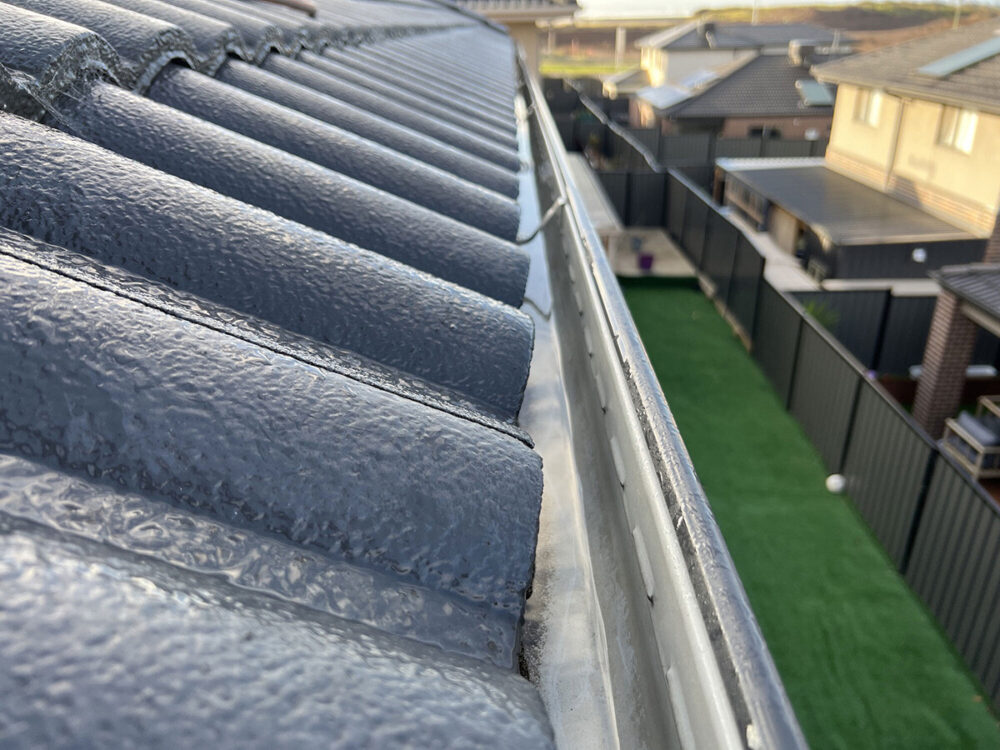 Why Homeowners Should Get Their Gutters Cleaned
When gutters and downspouts become clogged with leaves, twigs, and other debris water can't flow freely. This can cause it to overflow onto the foundation and potentially lead to costly damage to your home.
Clogged gutters can also pose a weight strain on your roof and fascia boards. Over time, the excess weight can cause the gutters to detach from the roof, damaging the trusses, roof tiles, and house exterior.
If left unchecked, blocked gutters can even cause mould growth. Water that overflows from the gutters can penetrate your roof cavities and create a moist environment perfect for mould growth, posing a health risk to you and your family.
You can prevent these problems with CleanMade professional gutter cleaning services, Regular gutter maintenance can prevent damage to your roof, exterior, and foundation, potentially saving you thousands of dollars in repair or replacement costs.
By getting regular gutter cleaning with CleanMade as part of your routine home maintenance, you ensure your home remains in excellent condition for years.
When Should You Contact CleanMade for Gutter Cleaning of Your Property in Melbourne?
If you're unsure how often to have your gutters cleaned, contact us and our team will answer your queries. We suggest cleaning your gutters at least two times every year, though this can vary according to your environment, temperature, and weather.
Living in an area with many trees or foliage can require more frequent cleaning. It's also essential to consider scheduling gutter cleaning services after severe weather events, such as heavy rain, storms or strong winds.
What Are The Benefits Of Working With CleanMade Professional Gutter Cleaning Services?
Clogged gutters can cause numerous issues, but the solution is simple: clean them. However, DIY cleaning may lead to more problems. Hiring a professional gutter cleaner like CleanMade for your home or business offers many benefits.
We Prioritise Safety Over Everything Else
At CleanMade, we prioritise safety and follow strict protocols to protect our team and your property during cleaning.
Gutters are typically installed at significant heights, making cleaning them difficult and dangerous. Hiring a professional can save time and avoid the risks of climbing a ladder to clean gutters yourself.
To avoid the risks, it's best to hire CleanMade's professional gutter cleaners. CleanMade gutter cleaning experts are certified for working at heights, are fully insured, and use proper safety equipment to ensure they complete the job safely.
We Have Both The Tools And Expertise To Do The Job
Homeowners who attempt to clean their gutters often lack the experience. CleanMade's professional gutter cleaners, on the other hand, have the necessary tools and years of experience honing their skills to clean gutters thoroughly and efficiently.
They can clean dirty or blocked gutters with care, avoiding damage. A professional gutter cleaner can also save you time and money in the long run by identifying potential issues.
We Work At Your Convenience
CleanMade gutter cleaning services work around your schedule. We will work with you to find a time that works best.
We offer online quote enquiries and personal phone consultations to make the booking process as easy as possible. Our highly experienced professionals are dedicated to providing the best customer service possible. All you have to do is request a quote by phone or online.
Cost-Effective Service That Will Save You Time
Without the necessary expertise, you may end up with an unsatisfactory result that can require re-cleaning. Hiring CleanMade's professional gutter cleaners ensures that the job is done correctly the first time.
Choose CleanMade for Top-Quality Gutter Cleaning in Melbourne
Choose CleanMade for professional, reliable, and cost-effective gutter cleaning in Melbourne. Our team is fully trained, and we take pride in the quality of our work. Our services include:
State-of-the-art gutter cleaning equipment to remove blockages and waste
Full insurance and accreditation for work cover, public liability, work safety, and more
On-time service, confirmed with you in advance
Before and after photos to show you the results
In addition to our cleaning services, we also offer roof cleaning, solar panel cleaning & bird-netting, and gutter guard installation, so you can get everything you need from us 'under one roof'. Enquire today to schedule your professional gutter cleaning service!